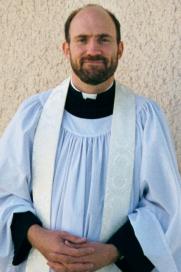 The Rev. Daniel Thies is the pastor of Eternal Trinity Lutheran Church. He is a graduate of The University of Alabama, has a Ph.D. in mathematical physics from Indiana University, and a Master of Divinity from Concordia Theological Seminary in Fort Wayne, Indiana. Pastor Thies also studied for one year at the Technische Hochschule Darmstadt in the Federal Republic of Germany.
Before entering the ministry Pastor Thies taught physics and mathematics at Concordia University, Irvine. He taught mathematics, physics and theology on the faculty of  Concordia College Alabama from 2010-2018.
Pastor Thies and his wife Evangeline live in Milton and have three sons and a daughter.